House of Diamonds


Custom Handmade Diamond Jewelry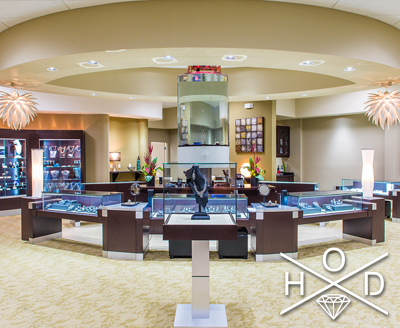 Are you ready to have gorgeous custom handmade diamond jewelry designed and made for you? We're the local jewelers with a reputation you can trust.
Thought You Couldn't Afford Custom Made Diamond Jewelry?
We Design & Create For Less Than You Might Think!
Call (602) 283-5570.
Whether you're looking to upgrade your wedding ring or propose to a loved one, look no further. The team of diamond jewelers here are experts who can help you find the right piece.
Handmade Diamond Jewelry in Scottsdale, Arizona
At HOD (House of Diamonds) we deal in the best handmade diamond jewelry Scottsdale has to offer. From engagement rings and pendants to necklaces and bracelets, we've got it all. Throughout the area, we have been chosen and recommended for the highest quality:
Diamond Earrings
Diamond Necklaces
Diamond Bracelets
Diamond Pendants
Check out our NEW location
in Scottsdale, Arizona!
Meticulously designed engagement rings & fashion jewelry that capture the magic and beauty of your singular love story.
When you're ready to indulge or treat someone you love, be sure to contact us. Gain peace of mind knowing that our experts are professional, dependable, and trusted in the area. Come and see us for quality, handmade diamond jewelry in Scottsdale, AZ.
Our store offer handmade diamond jewelry in Scottsdale, AZ. So when you can't find the piece you want at an affordable price, contact us. We can walk you through the process easily, and professionally.
Luxury Diamond Jewelry
It is our rare, luxury diamond jewelry makes every moment extra special. Celebrate your engagement, wedding, or anniversary with unique diamonds. It's important for you to know that we only deal in Kimberly Process diamonds which are guaranteed to be conflict-free. You can easily enjoy luxury diamond jewelry without the guilt. Contact our diamond experts for an estimate today!
Making luxury diamond jewelry affordable is also one of our passions. For some, lab grown diamonds are the best way to get the highest quality real diamond for the least amount of money. Lab-created diamonds are real diamonds all the way through. The only difference is that one is made in the earth and the other is not. They're even GIA Graded.
With over 50 years of experience, we're the luxury diamond jewelry experts. We can easily help you find the right piece for your proposal, wedding bands, wedding day, anniversary, or other special events. Enhance life's most beautiful moments with enchanting luxury diamond jewelry. Add sparkle to your every day and celebrate achievements with gemstones to match.
Each of our beautiful stones is crafted to last. This means you can pass on your jewelry to children or loved ones, for generations to come. Create memories and share them with grandchildren and their grandchildren with gorgeous diamonds.
We provide custom diamond jewelry in Phoenix, Scottsdale, and the surrounding areas. Get in touch with our diamond jewelry experts for a customized quote.