Welcome to the House Of Diamonds!
House of Diamonds specializes in designing and creating beautiful handcrafted diamond jewelry. With more than 5 decades of experience in wholesaling quality diamonds and manufacturing fine jewelry, our expertise is unmatched. Truly, if you can imagine the custom diamond ring, earrings, bracelet, or necklace of your dreams, we can create it and bring it to life.
We have enormous purchasing power through an alliance with one of the largest sightholders of diamond worldwide. Because of this partnership, our prices for premium graded diamonds are some of the most affordable in the state of Arizona.
More importantly, we care about where we get our diamonds and the people who work very hard to mine them. Our diamonds are responsibly sourced through the "Kimberly Process", which means they are conflict-free and not financed by rebel governments.
The House of Diamonds is a family owned and operated business with a philanthropic mission:  giving back to society, focusing on our children, both domestic and abroad.
House Of Diamonds has over 50 years of experience in wholesaling diamonds and the manufacturing of jewelry.  You will find a grand selection of superior quality diamond jewelry at excellent prices.
The House Of Diamonds specializes in custom made diamond jewelry manufactured right here in Arizona.  Our goal is to transform your imagination into reality, and doing so at an affordable price.
The House Of Diamonds has teamed up with the largest sightholders of loose, polished diamonds in the world.  The House Of Diamonds imports certified diamonds from Israel, India, China, Belgium, Canada and Russia.  With our large and diverse network of diamond suppliers, the House Of Diamonds will not be undercut.  The House Of Diamonds will match any priced diamond (of equal quality) from any retail or wholesale company.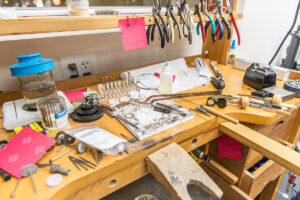 House of Diamonds only deals with diamonds distributed through the "Kimberly Process".  The Kimberley Process Certification Scheme (KPCS) is the process established in 2003 to prevent "conflict diamonds" from entering the mainstream rough diamond market. The KPCS was introduced by United Nations General Assembly Resolution 55/56 following recommendations in the Fowler Report. The process was set up "to ensure that diamond purchases were not financing violence by rebel movements and their allies seeking to undermine legitimate governments."Please do not hesitate to contact us at sales@houseofdiamondsaz.com or 602-283-5570 with any questions or requests you may have.